EAEC TRANSATLANTIC ACCELERATION SERVICES AND PROGRAMS
The mission of EAEC (and EAEC members') is to:
Support American businesses launching their activity in Europe
Support European businesses launching their activity in North America
By offering unique services tailored to these companies' needs - EAEC "4 R's" Phases / Step By Step Acceleration Services: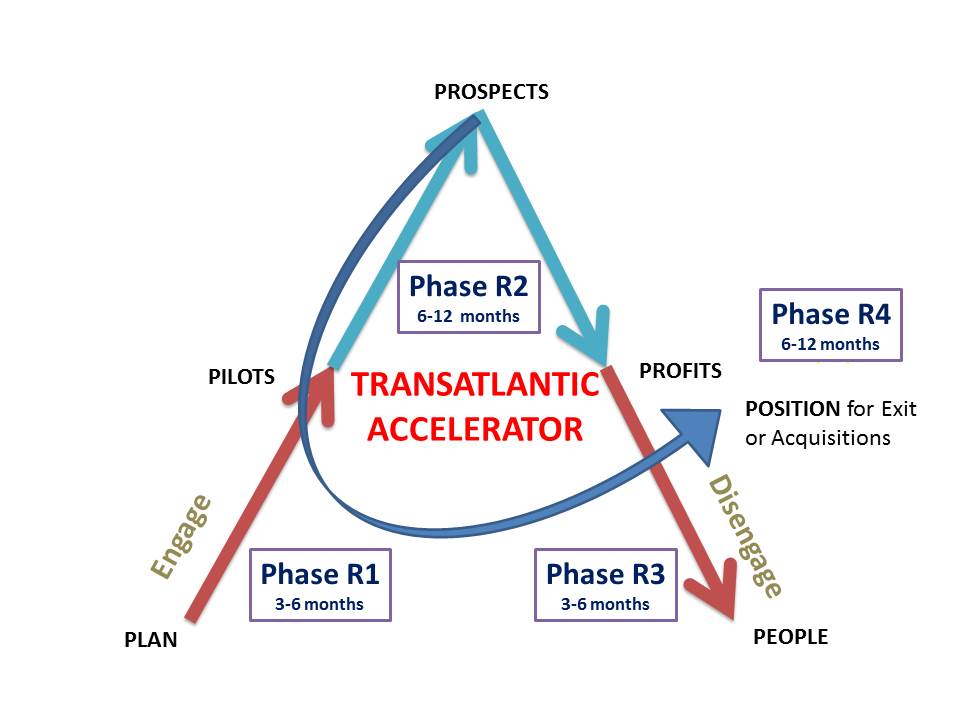 Phase R1: Research, Planning, Pilots, and Advisory Services
[3, 6 to 12 months - 9 to 60 hours of services per month]
Market Research, Marketing Plan, and Business Plan
Market Requirements Document and Product Requirements Document
Executive and Peer Monthly Advisory Boards
Introduction to close contacts to sign POCs and Pilots;

Client suggests a list of 5-30 ideal/strategic targets (if 6 month term) for Strategic/Channel partnerships and POCs.
EAEC identifies high potential leads from this list (minimum 10), contacts high level decision-makers, executes pre-sales pitch, and sets calls and meetings to discuss doing business and/or partner, starting with identifying possible Proofs of Concepts.
Phase R1 is also a PERFECT FIRST STEP PROGRAM ADAPTED TO STARTUPS ENTERING THE US MARKET. SPECIAL DISCOUNTS APPLY!
Phase R2: Revenue Acceleration Services
[6 to 12 months renewable - 60 to 100 hours of services per month minimum]
Telemarketing Campaigns, and Pre-Sales Activities
Sales and Business Development Planning and Activities;

Contacting and communicating with 60/80/100+ potential strategic accounts (if 12 month term), clients and/or partners (including prospects from past activities i.e. tradeshows and conferences), by organizing calls, meetings with some of them, and facilitating/supporting the closing and first orders.
Scheduling trip(s) to the destination market with bi-monthly visits (1 week length average) including with the company's CEO or VP of Sales as needed; as much as possible around important tradeshows, conferences and symposiums.
Phase R3: Recruiting Services
[3-6 months renewable]
International Executives Recruiting Services: Engineering, Sales, Business Development, Marketing, Communication, and Product Management/Marketing Positions
The service charge is on a contingency basis and is payable if, and only if, Client engages the services of a candidate (for a job or a consulting agreement) that has been referred to Client, directly (e.g. EAEC advisors or contractors) or indirectly, through EAEC's efforts.
Phase R4: ROI, Valuation and M&A Services
[6 to 12 months renewable]
Merger and Acquisition (M&A) advisory services providing advice and guidance on Client's mergers, acquisitions, and divestitures.
Merger and Acquisition (M&A) advisory services to match Client's business with prospective buyers.
EAEC is not a registered broker/dealer (cf. SEC rules and regulations). EAEC is associated with a registered broker/dealer that will be introduced to Client and will support the M&A efforts, and guarantee the professional handling of this type of transaction under US laws.
And focusing on the following sectors:
Technology, Med Tech, Telecom, and IT
Consumer products, Mobile Devices, and Apps
Clean Technology and Renewable Energy
Biotech and Pharma
Infrastructure and Transportation
Aerospace and Aeronautical Engineering
While serving its members' interests:
As a full blown social branding, networking and engagement hub for the members
As a unique consulting/contracting and job opportunity platform for the members
As an investment environment for the members who would like to participate as business angels (accredited and non-accredited investors).
The EAEC Acceleration services are also packaged in unique programs especially designed for gov/state/trade agencies, and aim at helping sponsored/subsidized companies in their international business development and marketing strategy execution as well as facilitating their operation activities across the Atlantic ocean.
Read more:
Examples of Acceleration Programs